己下貨品已到貨, 己訂了的朋友,請到本店提取,謝謝!
714475 Steam locomotive class 044, DB
825216 – Container carrier wagon, CEMAT
863302 Fast train dining coach, MITROPA
由於日元匯價上升, 店內全數日本貨品匯率會於近期調整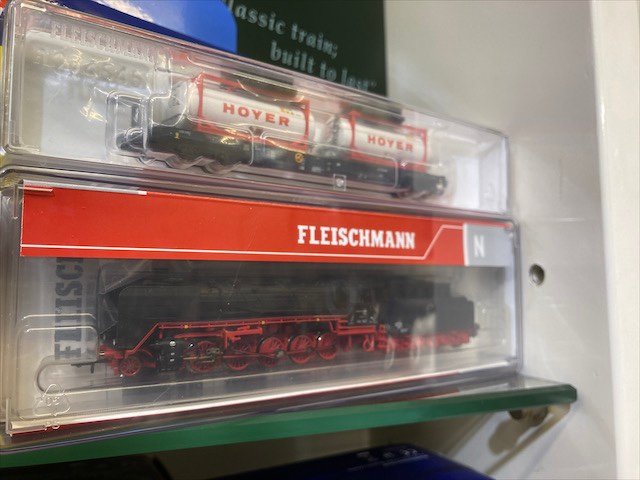 FLEISCHMANN 825216 – Container carrier wagon, CEMAT
Container carrier wagon type Sgns of the italian logistics company CEMAT (Combined European Mangement and Transportation S.p.A.).
The model carries two "Hoyer" tank containers
---
FLEISCHMANN 863302 – Fast train dining coach, MITROPA
Fast train dining coach type WR4ü-35 of the MITROPA(DRG).
True to original livery and lettering
---
FLEISCHMANN 714475 – Steam locomotive class 044, DB
Steam locomotive class 044 with coal tender of the Deutsche Bundesbahn (DB).
■ DB Witte smoke deflectors in lower position
■ DB lamps
■ With revised driver´s cab lighting
■ Running gear lighting with 3 digitally switchable lamps per side
■ Middle drive axles with smaller wheel flanges
■ Unobstructed view between boiler and chassis
■ Close coupling between loco and tender
Technical highlights:
Digital interface Next 18. Current input at loco and tender. Drive on 4 wheels with 4 traction tyres in the tender. Two spring-supported tender axles. Close-coupling on the front of the loco.
The development of a powerful freight train locomotive was a part of the German standard locomotive programme of the Deutsche Reichsbahn Gesellschaft (DRG).
The locomotive designated the class 44 with its triple cylinders was designed to transport freight wagons weighing up to 1,200 t in low mountain ranges and up to 600 t on steep ascents. In 1926, the first 10 locomotives were delivered with the 1'E h3 axle arrangement. This locomotive was not put into series production until the demands on train transport increased from 1937, after which it was procured in large quantities and in different designs. The series 44 locomotives formed the backbone of the heavy freight train service across the whole of Germany until they were replaced by modern diesel and electric locomotives.
Please follow and like us: