Electric locomotive 1116 181 of the Austrian Federal Railways.
■ Cityjet design
■ Current operating condition with black roof hood
■ Digitally switchable light and sound functions
■ Switchable high beam in digital mode
■ Licensed ÖBB model
■ Z21 driver's cab available
In 2019, the ÖBB initiated an upgrade programme for the renewal of double-decker trains (DOSTO). In this way, approx. 100 coaches are being optimised to the modern Cityjet standard by 2023. The modernisation comprises amongst other things on-board WIFI, reupholstered seats, multi-purpose areas in each intermediate coach with more space for bicycles, prams and baggage as well as newly-designated quiet zones.
In May 2022, halfway through the running DOSTO upgrade programme, the electric locomotive 1116 181 was painted in the Cityjet-design. In this way, the ÖBB is sending an important signal advertising their attractive public transport offers, in particular for local commuter transport in Lower Austria.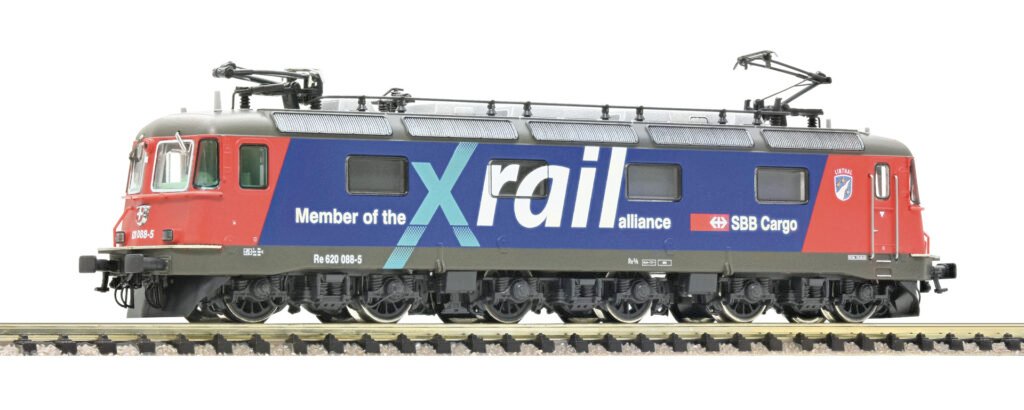 Electric locomotive Re 620 088 of the SBB Cargo.
■ "Xrail" design
■ Delicately-crafted pantographs
■ With square lamps and air-conditioning system
■ With off-centre "LINTHAL" crest
■ Fine windshield wipers as etched parts
■ Closed obstacle deflectors attached to the package
■ With individually switchable headlight or tail light in digital mode
■ Digitally switchable sound functions
With an hourly output of 7,850 kW and a top speed of 140 km/h, the Re 6/6, which was first put into operation in 1972, is still considered one of the strongest locomotives in Switzerland today. Today, all the remaining engines have been re-designated Re 620 and are operated in blue/red livery by SBB Cargo. The Re 620 088 was selected to bear the Xrail Allianz advertisement.
Xrail is a production cooperation between freight railways founded in 2010 with the aim of optimising European wagonload traffic in terms of customer-friendliness, efficiency and competitiveness. It currently consists of the seven freight railways SBB Cargo, CFL Cargo, DB Cargo, FRET SNCF, Green Cargo, Rail Cargo Group and LINEAS.
Please follow and like us: